Timely apology did nothing to affect falling brand health scores
Luxury fashion houses Givenchy, Coach and Versace have recently seen themselves in hot water, over controversial t-shirts.
The debacle began with an image posted on Weibo, of a Versace t-shirt which listed Hong Kong and Macau as independent countries – flying in the face of the One-China policy. The image quickly made rounds on social media, infuriating netizens. Soon, images of similar designs from Givenchy and Coach emerged, who too, listed Hong Kong as a separate country.
Though all three brands were quick to respond with a timely apology on 12 August 2019, amongst its Chinese ambassadors the damage had been done. Actor and singer Yang Mi, who was brand ambassador to Versace, announced the termination of her contract. Supermodel Liu Wen, one of Coach's brand ambassadors, announced her resignation with the label. Jackson Yee, member of boy band TFBoys, followed in the same footsteps by declaring that he would no longer be working with Givenchy.
The media attention also garnered a lot of attention amongst Chinese consumers. All three brands Attention scores – which measures the buzz heard about a brand, were at an all-time high. This attention though, did not fare well for the brand.
Before the public apologies, all three brands Impression score – which measures whether one has a positive or negative impression of the brand, were holding steady. Following the day of the apology however, we can see that this begins to fall. On the day of the apology, Givenchy held a score of +27.2, but today stands at +4.0, indicating a drop of 23.2 points. Coach, which had a score of +9.3, fell 9.5 points to a score of -0.2. Versace, who had a score of 11.6 now stands at -11.6, dropping 23.2 points.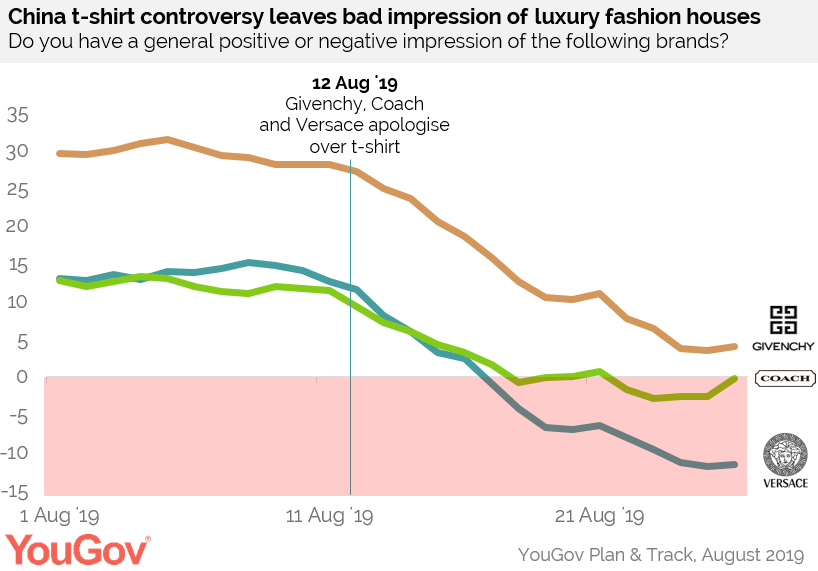 Other metrics also saw a decline. Chinese consumers are now also less likely to recommend the brands. There is also a drop in perceived quality and value of the luxury brands.
The last time YouGov Plan & Track measured such a significant drop for a luxury brand was late last year, due to insensitive ads by Dolce & Gabanna.
Ervin Ha, Head of Data Products for YouGov APAC commented: "Accounting for one third of the world's luxury good purchases, Chinese consumers are undoubtedly important clientele. Unfortunately, not one, but three big brands managed to make the same faux pas – offending people at a particularly sensitive time. Hopefully, it is a lesson that won't repeat itself, as it is clear that even a timely apology is not enough to appease offended Chinese consumers."