Questionable ads and leaked comments from fashion house founder dents brand's image in China.
Italian luxury fashion house Dolce & Gabanna (D&G) had to cancel their fashion show in Shanghai at the last minute recently, after it was accused of releasing 'racist' adverts. The video ads depicted an East Asian model attempting to eat Italian food with chopsticks and were deemed racially and culturally insensitive by many commentators. Soon after, messages allegedly from D&G founder Stefano Gabbana were leaked, where he called China the "Ignorant Dirty Smelling Mafia".
YouGov BrandIndex data shows that D&G's overall brand health score have fallen 14.1 points amongst Chinese consumers since the fashion show was cancelled, dropping from a relatively healthy score of +3.3 to -11.4.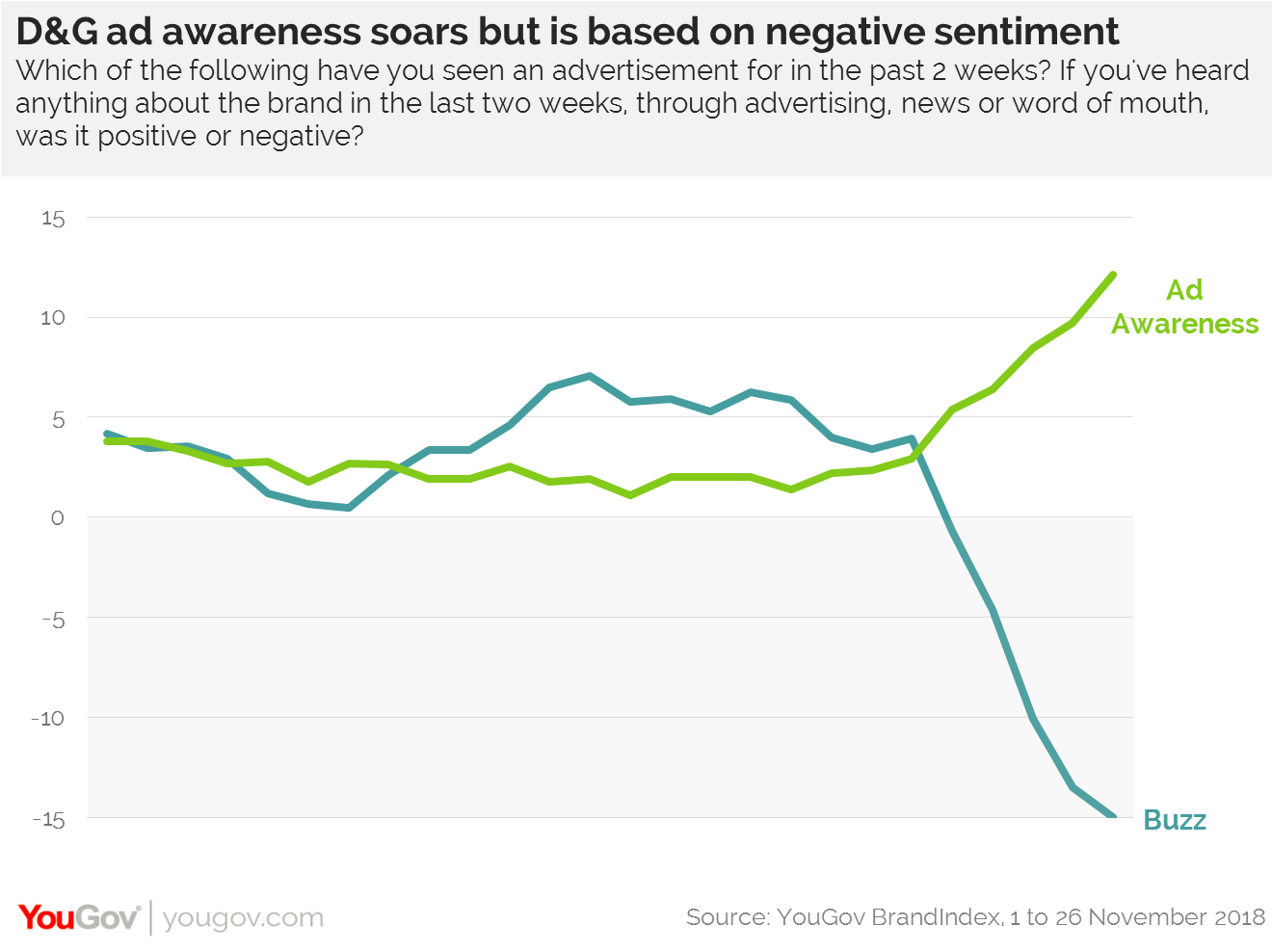 While there has been a spike in the number of people seeing D&G ads, the increase has been largely based on negative sentiment. D&G's Ad Awareness score – which measures how many consumers have noticed a brand's advertisements – was at +1.1. The viral nature of the ad saw it's score rise to +12.1, an increase of 11 points.
However, simultaneously its Buzz score – which measures whether people have heard anything positive or negative about a brand - plummented. A week before the show was cancelled, D&G's Buzz score was at +6.5, but it subsequently fell to -15.0. This indicates a drop of 21.5 points in under two weeks, a big fluctuation for a brand whose score had previously remained steady throughout the year.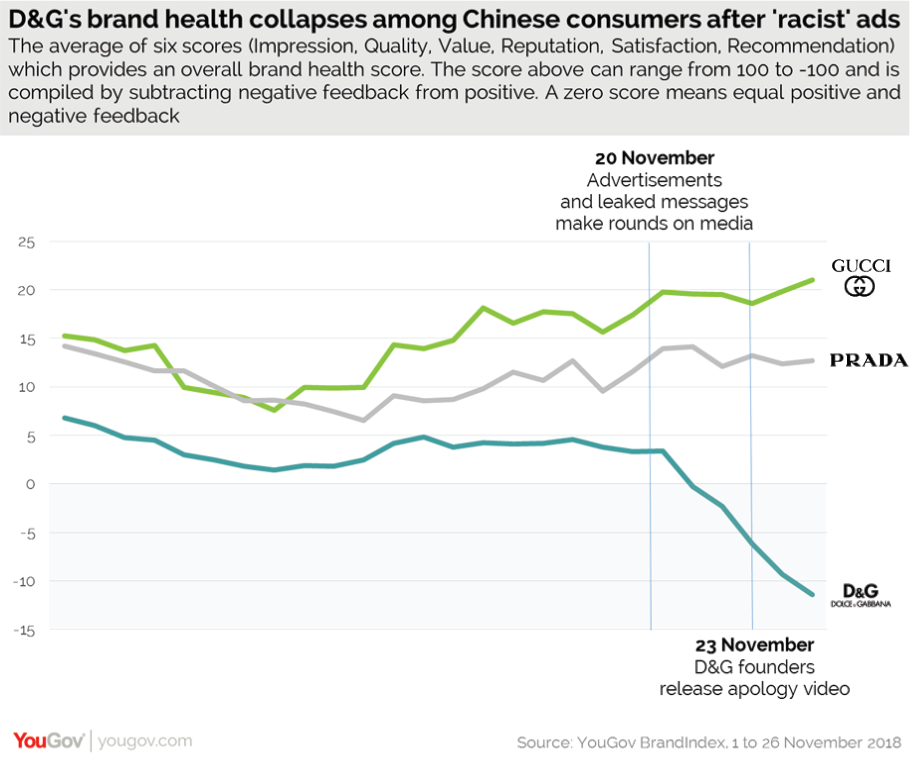 Consumers are also now less likely to recommend the brand to friends and family, with it's Recommend score – which measures whether people would recommend the brand to others – falling from +6.0 a week before the cancelled show, to -15.3.
The company has since issued an apology video, with the founders saying "sorry" in Mandarin, as well as pulling down the insensitive advertisements from their official Instagram account. However, so far this has not yet had a positive impact on its public perception.
D&G's troubles have been good news for it's competitors, though. Italian luxury fashion brand Gucci has seen its Index score improve by 3.6 points since in the same time frame while Prada's rose by 3.1 points.
Ervin Ha, Head of Data Products commented: "Whatever its motivation for releasing them, it seems as though Chinese consumers have noticed D&G's questionable ads. While its Awareness might have increased, it is to the detriment of its brand health. It remains to be seen how long the downward trend continues and whether the company can salvage its brand image in the eyes of Chinese consumers."