This month, smartphone producer Xiaomi Smartphone is the brand that has achieved the greatest uplift in its Ad Awareness score (whether someone has seen its advert in the past two weeks) in China.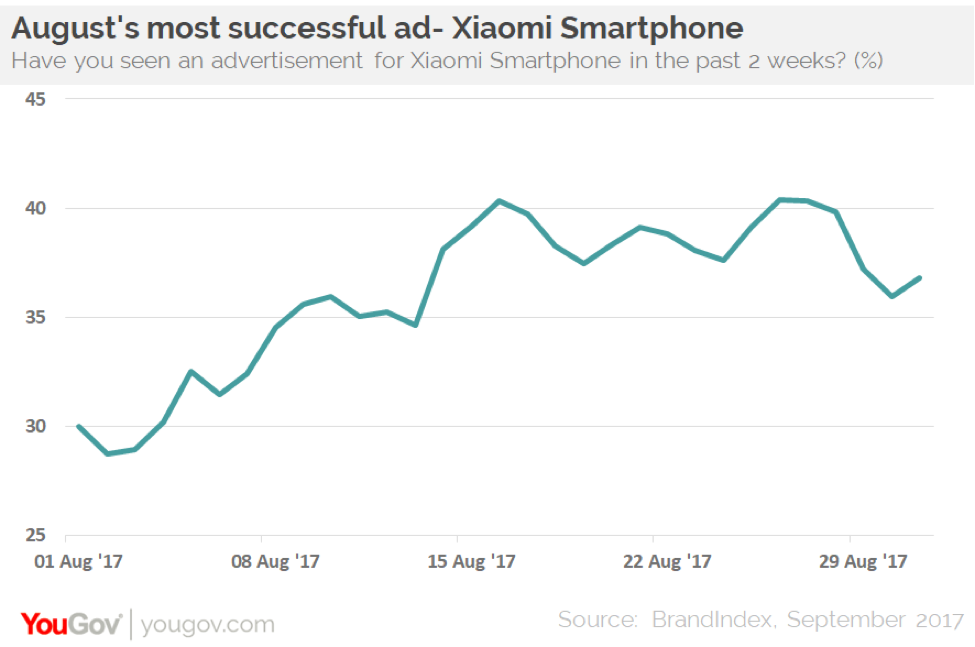 Two of its latest models – the Mi 5X and the Mi 6 – launched over the summer and have been met with much fanfare, particularly in light of celebrity endorsements from the likes of teenage heartthrob Kris Wu (吴亦凡).
Xiaomi Smartphone also made use of successful sponsorship deals, including popular TV shows such as 中国有嘻哈, 我们的侣行 and 盲约, which are likely to have had a positive impact on the brand's awareness and image of late. 盲约's use of product placement was particularly clever, with all actors seen to be using Xiaomi 5 smartphones.
It is not only the brand's exposure that has profited from its advertising efforts. Xiaomi Smartphone's Consideration score, which measures purchase consideration, has risen by 9 points over the course of the month – from 28 to 37. This is also reflected by sales of over 2.42 billion to tie in with a promotional period from 10-16 August, in celebration of the brand's seventh birthday.
Its Buzz score, which measures net sentiment generated across all media, has also seen a considerable increase, particularly among younger audiences. Xiaomi Smartphone ended the month at 32 with 16-29 years, considerably higher than those aged 30-44 (with a score of 20) and those aged 45+ (24).
With more new releases on the way, the hype around Xiaomi products isn't likely to dampen any time soon.