The top 5 most wanted brands across fashion, luxury, watches, skin care and mobile devices.
Singles' Day, the world's largest shopping event, kicks off this Sunday (11th November) with over 180,000 online brands offering exclusive discounts. Latest YouGov BrandIndex data asks consumers their the top five most wanted brands across five sectors that the Chinese will be actively looking to purchase during Singles' Day sales promotions.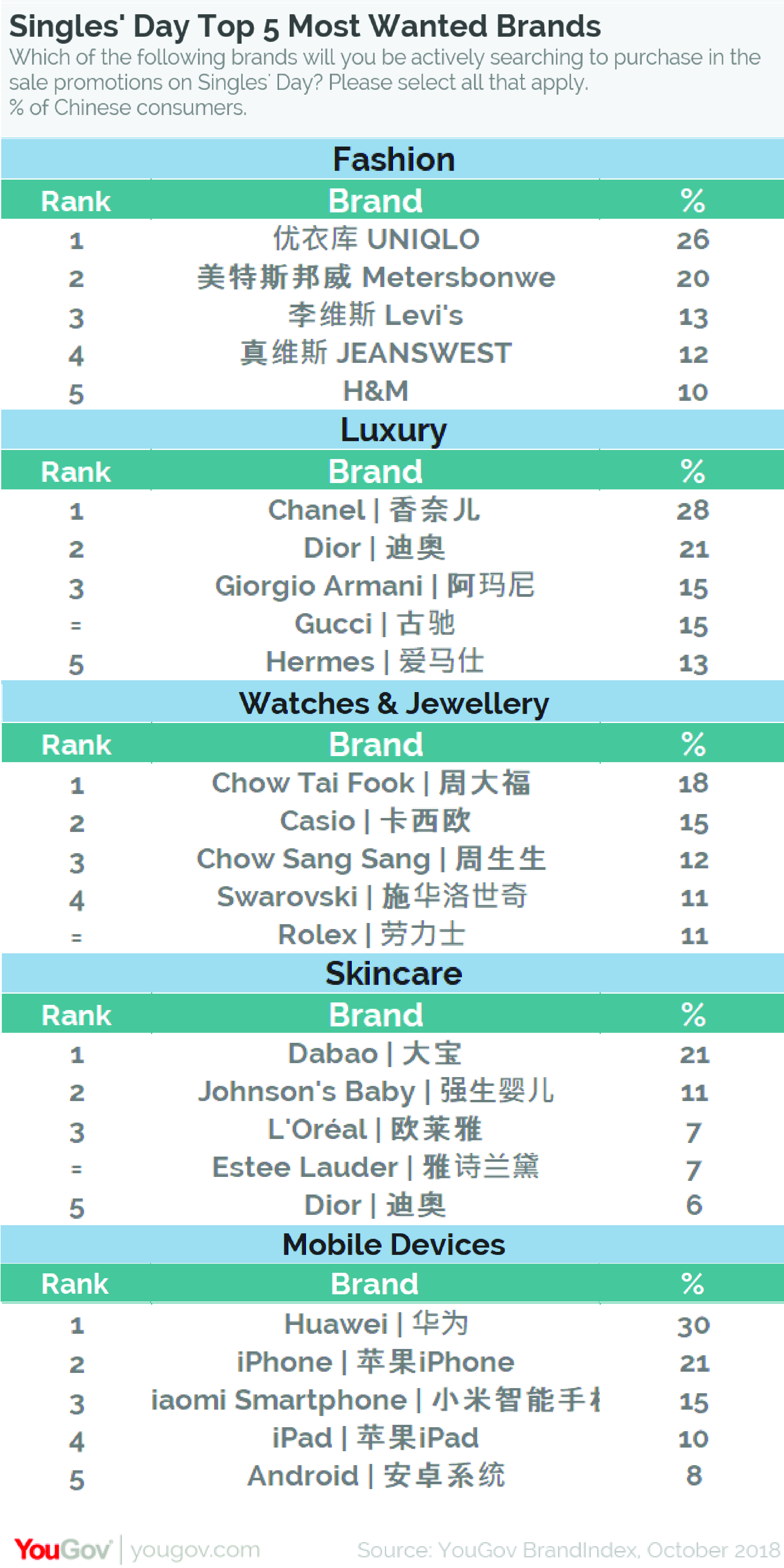 Uniqlo tops the fashion brands list, with 26% of consumers intending to make a purchase from the Japanese outlet. This is followed by local brand Metersbonwe (20%), Levis (13%), JEANSWEST (12%) and H&M (10%). However, fashion brands' popularity depends on where consumers live. Uniqlo is more popular amongst those in Tier 2 cities (with 34% intent to purchase against the 26% average), and Metersbonwe (25% vs 20%) is more popular in Tier 3 cities.
Chanel is the most popular luxury brand, with 28% intending to buy from the fresh fashion house. This is followed by other Dior (21%), Giorgio Armani and Gucci (15%) and Hermes (13%). Again, the brands Chinese consumers will buy depends on which Tier city they live in. Tier 2 cities are most interested in luxury brands, with 38% of Tier 2 cities seeking to buy Chanel and 22% buying Giorgio Armani.

Alongide luxury brands, Chinese consumers are also looking to buy watches, with the most wanted brand being Chow Tai Fook (at 18%). This is followed by Casio (15%), Chow Sang Sang (12%), Swarovski and Rolex (both 11%). Men will be buying more watches than women, with the top brands like Casio (purchased by 19% of men vs. 9% of women) and Rolex (15% vs. 7%) being more popular.

When purchasing skincare, Daobao is the most wanted brand at 21%. This is followed by Johnson's Baby (11%), L'Oreal and Estee Lauder (both 7%), and Dior (6%). Daobao purchases will most be made by men (28% vs. 13% by women).
Amongst mobile devices to be picked up, home-grown brand Huawei is at the top at 30%. Apple's iPhone is the next most popular (21%), followed Xiaomi (15%), iPad (10%) and Android (8%). Xiaomi is more popular amongst male consumers, at 19% compared to 10% amongst women.
Ervin Ha, Head of Data Products at YouGov APAC commented: "In the industries surveyed, this year's Singles' Day will be dominated by Chinese male consumers, wether it comes to buying skin care or mobile devices. We can also see that China's spending power is not limited to Tier 1 cities like Beijing and Shanghai, but strongly felt in Tier 2 cities too. Singles' Day is a testament to the influence of Chinese businesses, driven by the power of Chinese consumers."

*** Data was collected online from 17 to 30 October 2018 using YouGov's panel over 6 million people worldwide. It was weighted to be representative of the online population of China. Sample size ranges from 283 to 2080.