The most popularly discussed brands amongst those aged 18 to 34
Alipay is the most positively talked about brand amongst millennials in China, new data from YouGov BrandIndex reveals.
The world's largest mobile payment platform tops the latest YouGov ranking, which considers the brands 18-to-34 year-olds have discussed with their friends in favourable terms.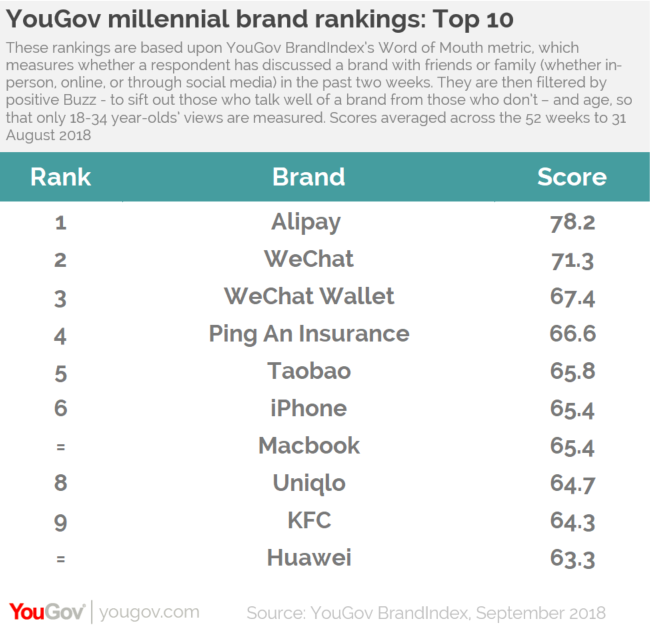 Alipay tops the list with a score of 78.2, followed by Chinese "super app" WeChat (71.3) in second place and it's counterpart WeChat Wallet (67.4) in third. The list is dominated by other digital brands, with e-commerce platform Taobao (65.8) in fifth, iPhone and Macbook (65.4) joint in sixth, in seventh and telecommunications equipment manufacturer Huawei (63.3) in tenth.
The top ten is completed by insurance company Ping An Insurance (66.6) in fourth, fashion retailer Uniqlo (64.7) in eight and quick service restaurant KFC (64.3) in ninth.
Ervin Ha, YouGov's Head of Data Products commented: "When it comes to brands, the discussion amongst Chinese millennials is home-grown, digital brands. Though WeChat is gaining traction, Alipay still currently stands as the number one most discussed brand with the younger Chinese."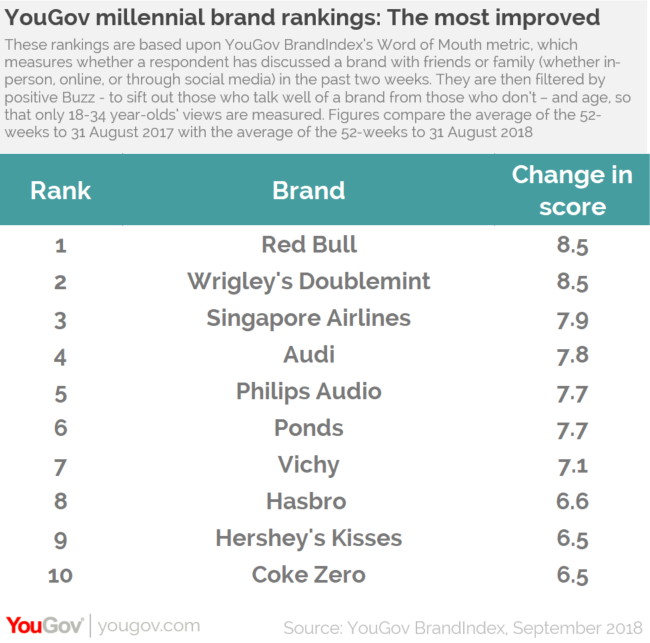 The rankings also show which brands have experienced greatest uplift in positive word of mouth over the past 12 months among millennials. Red Bull and Wrigley's Doublemmint are joint top of the improvers list with their scores increasing by +8.5. Singapore Airlines (+7.9) is third and Audi (+7.8) fourth.
YouGov's rankings are based upon YouGov BrandIndex's Word of Mouth metric, which measures whether a respondent has discussed a brand with friends or family (whether in-person, online, or through social media) in the past two weeks. They are then filtered by positive Buzz - to sift out those who talk well of a brand from those who don't – and age, so that only 18-34 year-olds' views are measured.